BMW X3 vs Mercedes GLC
Seeking out a luxury SUV for your travels? When you compare the 2020 BMW X3 vs. Mercedes-Benz GLC, you'll see these two vehicles bring a lot to the table for Jackson, Clinton, and Ridgeland drivers. From capable performance and a long list of interior amenities to sleek design, you can expect a lot from the X3 and the GLC.
Our BMW of Jackson team takes a closer look at these vehicles for you, providing what you need to know before scheduling that first test drive.
X3 vs GLC Performance Capabilities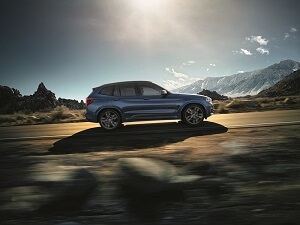 When you press down on the gas pedal in a luxury SUV, you want a car that's going to respond in kind. Both the BMW X3 and the Mercedes-Benz GLC do just that. In the X3, the 2.0L BMW turbocharged engine delivers 248 horsepower, combining twin-scroll turbocharger technology with high-precision direct injection. This powerful engine ensures your drives on the highway are always a thrill.
The Mercedes-Benz GLC offers similar power with its 255-horsepower engine. This model has also been engineered to deliver exceptional performance and fuel economy through its hybrid engine, an engine the BMW X3 also carries.
What you won't find in the GLC, however, is a V6 engine, something BMW drivers will have in the M40i trim. This performance engine makes 382 horsepower, far eclipsing the power output that the GLC is capable of.
BMW X3 vs Mercedes-Benz GLC Interior Amenities
Let's peek inside the cabins of these vehicles. After all, that's where you'll be spending your time, so it needs to be a comfortable haven every time you take the wheel. We can assure you that both the X3 and the GLC are indeed welcoming, with power front seats leading the way. The driver's-seat memory feature comes standard in both models, so even if someone else takes the wheel, the press of a button will recall your settings the next time you get inside.
The 40/20/40 split-folding rear seats with power folding capability expand cargo space when you're carrying longer, bulkier items, too.
The GLC offers standard dual-zone automatic climate control for the driver and front-seat passenger, allowing you to set a personalized temperature with no need to compromise. However, the BMW X3 takes things one step further with standard automatic 3-zone climate control, allowing passengers in the second row access to this helpful feature.
Connectivity Features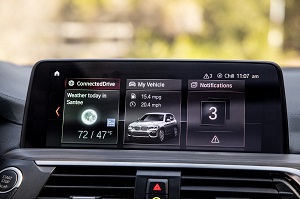 Regardless of the luxury model you choose, you'll have access to a long list of connectivity features. These features are here to make your life easier, with intuitive technology keeping you one step ahead. Standard Apple CarPlay® compatibility is found in both models, giving you the ability to hook up a smartphone to your vehicle's touchscreen. Once you've done this, you'll have access to text messages, saved playlists, and other apps you use on a daily basis.
Both vehicles also feature a digital instrument cluster that displays important vehicle information just beyond your steering wheel. Stay up to date with current speed, MPG, and fuel information without having to take your eyes off the road.
BMW X3 vs Mercedes-Benz GLC: A Last Word
Are you ready to live in the lap of luxury? If you're driving around Jackson, Clinton, and Ridgeland, do so in a luxury SUV. Our 2020 BMW X3 vs. Mercedes-Benz GLC comparison has taken a closer look at these two vehicles and what they have to offer.