BMW X7 vs Mercedes GLS
If you're in the market for a luxury SUV to help boost your commute in and around Jackson, Clinton, and Ridgeland, chances are you've found yourself torn between the 2020 BMW X7 and the 2020 Mercedes-Benz GLS. There's no surprise there since both vehicles offer powerful performance, spacious seating, and driver assistive features.
To help you decide which SUV is right for you and your family's needs, we here at BMW of Jackson have created this BMW X7 vs. Mercedes GLS comparison. Ready to get started? Keep reading!
Related Post: 2020 BMW X7 Review
Powerful Performance Capabilities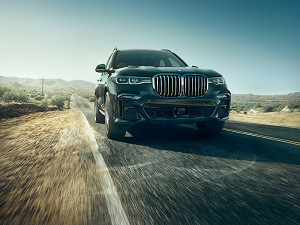 When you drive a luxury SUV there's no cutting corners in terms of performance. You need a vehicle that can keep up with your adrenaline pumping needs. Fortunately, both the X7 and GLS offer fairly similar standard engines. Both models come standard with a 3.0L engine, although the engine of the GLS is slightly upgraded with the EQ Boost.
While the standard engines are similar, the available BMW X7 vs. Mercedes GLS engines couldn't be any more different.
With the Mercedes GLS you have the available 4.0L V8 biturbo engine with EQ Boost, which is capable of producing 483 horsepower and 516 lb-ft of torque. While this might seem impossible to top, the X7 swept in with its optional 4.4L BMW M Performance TwinPower Turbo V8 engine.
The optional engine of the X7 bumps your performance to an impressive 523 horsepower and 553 lb-ft of torque. Plus, the X7 allows you to power up from 0-60 MPH in only 4.5 seconds, while GLS drivers have a slower acceleration at 5.2 seconds.
BMW X7 vs Mercedes GLS: Dimensions
You'll find that with both the BMW X7 and Mercedes-Benz GLS you and your passengers will be treated to a spacious commute. At first glance, both SUVs share similar dimensions, but with a trained eye you can spot the differences.
For example, taller passengers can travel more comfortably thanks to the 41.9-inch front headroom. Those traveling in the GLS will only have 39.4 inches of front headroom. Sure, 2.5 inches isn't that much of a difference, but you're sure to feel it in your neck and shoulders the more you travel around in the GLS instead of the BMW.
In addition to taller travelers having more comfort in the BMW X7 than the Mercedes-Benz GLS, those who travel around in the BMW will be sitting taller as well. Comparing the wheel sizes of the BMW X7 vs. Mercedes GLS, the GLS comes standard with 19-inch wheels while the X7 comes standard with 21-inch wheels.
You can, however, upgrade the wheel size of your GLS to optional 21-inch wheels, but X7 drivers can also upgrade to optional 22-inch wheels.
Standard Safety Features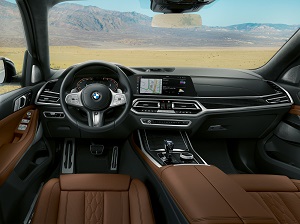 While a powerful engine and spacious commute are sought after when browsing for your next luxury SUV, the truly most important aspect is safety. That's why standard safety features are offered with both the BMW X7 and the Mercedes-Benz GLS.
Using intelligent technology, the area around your vehicle will constantly be monitored with systems like the blind spot monitoring technology. Although, that's where the similarities between these two vehicles and their technology-based safety features end.
With the BMW X7, you'll find additional safety features like:
Frontal Collision Warning with City Collision Mitigation
Lane Departure Warning
Rear Cross Traffic Alert
And more
Those looking for comparable safety features with the GLS can only find these safety features if they purchase a driver-assistance technology package.
BMW X7 vs Mercedes GLS: The Verdict
When it comes to overall power, space, and safety, the 2020 BMW X7 takes the lead in every category. Those in the Jackson, Clinton, and Ridgeland area are invited to learn more about these features offered with the BMW X7.