Local Spotlight Parlor Market

Housed in a space that was originally built in 1898, the Parlor Market focuses on continuing the traditions of the specialized grocery store that first occupied the space.
At Parlor Market, you can enjoy well-crafted food and beverages with your friends and family. With a focus on locally grown products, you'll find some amazingly fresh Southern fare when you stop into their warm, rustic, and welcoming restaurant!
---
Southern-Inspired Food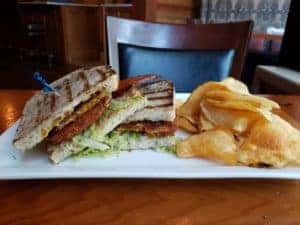 Whether you stop by for lunch or dinner, the Parlor Market menu is filled with award-winning Southern fusion cuisine. At Parlor Market, they like to let seasonal, fresh flavors shine in each dish.
Stop by during your lunch break and grab one of their fresh salads or sandwiches. Their Crispy Chicken Panini is topped with bacon, tomato, and smoked cheddar that's bursting with flavor.
If you're stopping in for dinner, you'll definitely want to try their house-made pasta! Go classic with their Carbonara or enjoy their Grilled Octopus Puttanesca. They also offer other main dishes—from their Woodgrilled Filet Prime to their Sea Scallops.
Whatever you order, just make sure to save room for their Chocolate Hazelnut Tart!
---
Share a Drink with Friends
When you stop by Parlor Market, you can also order from their expansive drink menu and enjoy a round with whomever else is dining with you. They have the perfect wine to pair with your pasta meal, a variety of beer to choose from, and even their own Prohibition-style cocktails.
Each cocktail they make is mixed by their expert bartenders and lets their creative shine by adding new twists on classic drinks.
Their Maridel is a truly refreshing drink that mixes together Cathead Honeysuckle vodka, basil cucumber syrup, and lime. They constantly come up with new creations that go with the various seasons, so there'll be something new on their cocktail menu for you to try each time you stop by Parlor Market!
---
Host a Private Event at Parlor Market
Parlor Market is also the perfect space to hold your next big event. Whether you're looking for a place to host your rehearsal dinner or corporate event, Parlor Market will make sure you and your guests have an enjoyable evening!
Their event space can seat anywhere from 20 to 100 people and can also accommodate up to 150 people for a cocktail party. Just contact them and they can help figure out a seating arrangement and menu to accommodate the needs of you and your guests.
Their elegant event space, Albert's, and menu of delicious, quality food is sure to make whatever occasion you're celebrating a special time!
---
Come Dine at the Parlor Market Today!
Parlor Market is the perfect spot to grab a meal with friends or family! Celebrate a birthday, enjoy your next date night, or meet up with friends for lunch at Parlor Market. You can reserve a table now right on their website or by giving them a call.